James B. Cook Jr.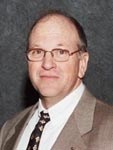 James Byron Cook of Lowell passed away December 8, 2006 after a battle with cancer. Jim was 57 years old. Jim and Berdie had their first date when they were 15 and married at 18. Jim spent over 38 years with the love of his life. They had three daughters, Jamie, Jennifer and Cindy. Two Grandchildren, Victoria and Tyson, who were the light in his day. Jim grew up farming, working close by his parents and later with his wife on the farm. They all loved showing cattle, especially with their children.
Professionally, Jim & Berdie excelled at two careers, farming and auctioneering. This is not only true from the numerous honors they received, but more importantly, the respect they earned, and the numerous friends they made. Auctioneering was Jim's passion – even during high school, on the inside cover of his books he wrote, Jim Cook, Sales Manager/Auctioneer. Jim was an auctioneer for over 30 years. But he continued to stay involved with cattle by conducting many FFA Auctions every year. He also conducted many benefit auctions in addition to his business. His Auction Company, Cook Auction & Appraisal Service LLC was based out of Lowell, Michigan. He worked side by side with his wife, Berdie, and their family and friends. They specialized in Estates, Farms, Cattle, Business Liquidations, Antiques, Consignments and Real Estate. Jim served on many boards and was member of many associations in both farming and auctioneering. In the Auction Industry, Jim was a member of the National Auctioneers Association and a life member of the Michigan State Auctioneers Association. Jim was elected to the MAA Board of Directors in 2004 at the Annual Convention in Battle Creek. He has served as the MAA's Secretary/Treasurer since.
Jim traveled through life with a positive outlook and always good humor. Even during his months with cancer, Jim never gave up. He always said that even though the doctor's weren't optimistic, they don't know everything. Jim's quiet strength taught all those who knew him many valuable lessons – he had an impeccable work ethic without sacrificing the important things – if a job was worth doing, it was worth doing right. Even at Jim's last auction on Thanksgiving weekend, he stayed until the job was done. He put a lot of faith in his crew, but he always wanted to be there to talk to the buyers and see his friends. With Jim, it was a given that you work until the work was done. Like what you do, and be thankful for the rewards. Be loyal, and if you raise dairy cattle, you order beef and drink milk in a restaurant.
Jim will be remembered and missed by his family and many friends.