Martin "Barney" Joseph Barnhart
September 22, 1920 – June 11, 2019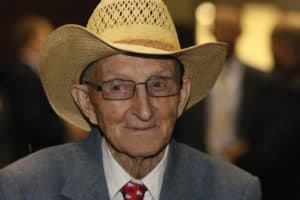 Martin Joseph "Barney" Barnhart, one of Hillsdale County's most colorful characters for nearly a century, passed away surrounded by family on June 11, 2019 at the age of 98.
Recognized by the Michigan State Auctioneers Association as a Hall of Fame Member and with a Lifetime Achievement Award he was known as "America's Oldest Practicing Auctioneer." Through the grace of God and the Saturday Hillsdale Auction, he was a familiar figure at the "Sale Barn" for decades auctioning everything from hay to livestock. Auctioneering gave him the greatest pleasure and he proudly worked until a few weeks before his passing. In his heyday, he traveled throughout the Midwest conducting farm and estate auctions and always sought to get the most value for the farmers and families who needed his services.
On September 22, 1920, he was born in his family's farmhouse in Reading, Michigan, to Arthur L. and Ora Elberly Barnhart, who proceed him in death. For nearly a century he lived in the farmhouse farming his family's land and calling Hillsdale County his home. The farm's barn is recognizable to all travelers by the large white heart painted prominently, proclaiming "Barnhart" to all.
Barney enjoyed music and played trombone in the Reading School band and in later years sung in the choir at the Reading Methodist Church. He attended Michigan State University earning an agricultural degree. As a child he attended auctions with his father where he caught the "Bug" and he practiced his skills auctioning his sister's dolls. His big break occurred in 1939, when his father hired legendary auctioneer, Andy Adams, to sell his registered short horned cattle herd. Seizing an opportunity, Barney asked Mr. Adams if he could sell a wagon full of miscellaneous items. The legendary Andy Adams saw something in Barney and soon after hired him to work future auctions.
Barney met his wife, Ruby Amelia Kleinau, at a 4-H event in Chicago, Illinois. They were married on February 8, 1947 and worked together on the farm and the auction business until her death in 2008. 4-H activities remained an important part of their life and they shared the values of this organization with area young people who participated in the annual fair events. From 1940-2009, Barney assisted with and donated his valuable time at the annual 4-H and FFA animal auctions at the end of each Hillsdale County Fair. He also was a volunteer on Thursday's at the Hillsdale Hospital MacRitchie Center calling bingo.
Martin leaves behind his five children; Penny (Robert) Carothers, Patric (Sherry) Barnhart, F. Troy (Gail) Barnhart, Anita (Mark Christie) Barnhart and Andrew Barnhart. His grandchildren; Wendy Coleman, Nate (Sarah) Barnhart, Todd (Aimee) Barnhart, Brent Barnhart and Brooke Barnhart and his great-granddaughters; Payton, Macie, Evie, Olivia and Emma Barnhart. Proceeded in death by sister Pauline Beard and survived by sisters Margaret Chester and Lila Rubel.
Funeral services for Martin "Barney" Barnhart will be held Saturday, June 15, 2019 at 11:00 AM at the VanHorn-Eagle Funeral Home in Hillsdale with Pastor Deb Cole officiating. The family will receive friends for visitation on Friday from 3-8 PM at the funeral home. Private family interment will take place at Maplewood Cemetery in Reading.
In lieu of flowers, please consider a donation to the Michigan Auctioneers Association Scholarship Fund, The Reading High School Band, or the Hillsdale County Fair Restoration Fund.
To send flowers to the family of Martin "Barney" Joseph Barnhart, please visit Tribute Store.
To donate the Michigan Auctioneers Association Scholarship Fund, please send a check made out to the Michigan Auctioneers Association Scholarship Fund to: 4529 Gibbs NW, Grand Rapids, MI 49544.  Please note in the name of Barney Barnhart.