Henry Detweiler, Michigan Ringman Champion 2016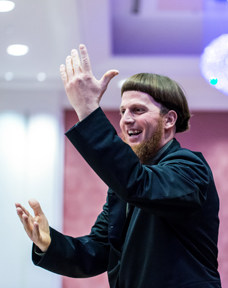 Grand Rapids, Michigan – Auctioneer Henry Detweiler of Charlotte, Michigan was awarded the honor of the 2016 Michigan Ringman Champion on February 17 at the Michigan Auctioneers Association Annual Conference in Grand Rapids, Michigan.
A field of 8 contestants from Michigan, Indiana and Ohio entered the competition.
Henry was fortunate enough to also win the Michigan Auctioneer Champion title in January 2012. Henry is a first generation auctioneer from Charlotte, Michigan, where he is a member of the Yutzy Auction Service, a team of professional auctioneers conducting a wide variety of consignment, farm, real estate and personal property auctions every year.
Henry married the love of his life, Edna Mae Graber, on August 7, 2008. They live in the Charlotte area on a 20 farm where they raise Standardbred horses and 2 wonderful children, Veronica Jane, age 6, and Gage Romayne, age 2.