Gary Bender
In Memory of our friend Gary Bender
Passed away on Tuesday, June 1, 2004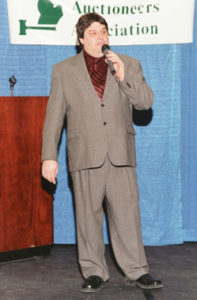 Gary Bender
2004 MAA Convention
Gary Bender
September 30, 1959 – June 1, 2004
We sadly report the accidental death of our friend and colleague, Gary Bender.  Gary was a man who filled the room with his presence.  Those who knew him could depend on him to come up with a reason to laugh and remind us to enjoy life to the fullest.  He will be missed.  His colleagues who respected him will miss him because he was hard working, reliable and honest.  His close friends who loved him will miss him because he was devoted and loyal. He will be missed by his daughter, Jessica Bender, who knew that above all else, she was the most precious thing in his life.
Gary expressed an interest in learning the auction business in 1994.  In keeping with everything he started he threw himself into learning with every ounce of energy he had. Gary worked at every Smittendorf auction, determined to develop his skills and appreciation for the auction business. When Smittendorf Auctioneers joined with the Glassman's, he quickly became a valued member of that auction team.
He was hired by the Michigan Trappers Association and ran their auctions in keeping the professional ethics and standards of our profession.  He was a member of the Michigan State Auctioneers Association and a life member of the National Auctioneers Association.   He was a regular attendee of the Michigan Auctioneers convention and competed in the bid-calling contest the past three years.
Gary graduated from Sturgis High School in 1977. He worked in various industries, taught himself construction skills and built his own home.  Gary was a big man who did things in a big way.
Wesleyan Church
907 N Nottawa St (M-66)
Sturgis, MI 49091
(269) 651-7802
Click here: Google Search: Churches near Sturgis, MI 49091
Friday Visitation 3-8 PM, Funeral  3:30 Sat.
Casual attire requested.
Reception at the Eagles after, then a "Wake" bonfire at Garys former residence.