Edward L. Belcher
(September 28, 1922 – March 24, 2008)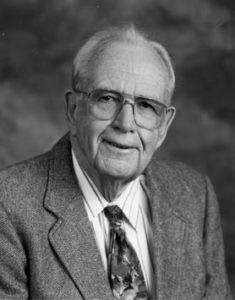 Edward L. Belcher, age 85, of Marshall, well known auctioneer and realtor, died Monday evening, March 24, 2008 at Oaklawn Hospital.
Ed was born on Sept. 28, 1922 on the family farm near Battle Creek to Harold and Blanche (Stanley) Belcher. He attended Battle Central High School. In order to graduate Ed had to participate at an assembly at Kellogg Auditorium. Being shy at that age he was convinced he wouldn't graduate. His father and Ed went to work and wrote the now famous and carefully guarded "Soap Speech" Ed performed at the assembly. As a result Ed successfully graduated in 1940 . The "Soap Speech" was performed from then on over the years and grew in it's fame!
Ed was married to Genevieve C. Tuck on Nov. 15, 1942 at Battle Creek First Methodist Church. Ed was inducted into the U.S. Army on Dec. 14, 1942 and served in the Canine Corps. He was honorably discharged on Jan. 30, 1945 and returned to the Battle Creek area.
Ed's career as an auctioneer started in 1937 at the age of 16 by auctioneering at the Wayland Livestock Auction and the Cassopolis Livestock Auction. He worked with his father Harold Belcher who founded Belcher Auction Company in 1919 in Battle Creek. After his return from the Army Ed returned to auctioneering and earned his Realtor's license in 1947. Initially he worked for the former Karns Realtors in Battle Creek.
The couple moved to Marshall in 1946. Ed opened the Belcher Realty and Auction Company in offices on Eagle Street in 1947, later moving them to Michigan Avenue. He expanded his operations in 1952 to include an insurance agency. He was joined in the business by son Brent Belcher, son-in-law Steve Koster, and later grandson Kevin Belcher. He opened a branch Real Estate office in Battle Creek in 1977. The family currently have their offices on S. Kalamazoo Avenue.
Ed was a member of the Michigan Auctioneers Association, served as their president in 1973 and was honored by them as the first recipient of their Michigan Auctioneer of the Year Award in 1976. He was a member of the National Auctioneers Association and the Indiana Auctioneers Association. He was honored by being inducted into the Michigan Auctioneers Hall of Fame in 1997.
He was a life member of St. Albans Lodge #20 F & AM, life member of Stanley E. Lamb American Legion Post, and a past member of the Moose Lodge. He also had been a member of the Knights of Pythias.
Ed was responsible for the very successful Calhoun County 4-H Auction held yearly at the Calhoun County Fair. Ed and his family have volunteered their time and run the auction since 1961. Ed was active even at last year's auction! Many young 4-H members were tutored by Ed on how to approach local business people to attend the auction which resulted in it's great success.
He was a member of Rotary Club. He was a member of Marshall United Methodist Church where he was chairman of the Stewardship Crusade to build the present church in 1972 and served on the Finance Committee and the Pastor/Parrish Committee. He was a member of the former Michigan National Bank Board from 1966 to 1993. Ed was a charter member of the Calhoun County Agricultural and Industrial Society and was a past board member serving 1971-76. Ed's active involvement with the Calhoun County Fair started in 1948 when he organized the Centennial Parade and announced it (which he also did for the annual fair parade for many years following.). Ed served as chairman for the Bi-Centennial Parade. Ed had a particular fondness for Floral Hall at the Fair Grounds. The CCAIS dedicated the Edward L. and Genevieve Belcher Commerce Building in 2004 in appreciation of their dedicated service to the fair.
Ed was a member and past president in 1975 of the Marshall Area Chamber of Commerce. Ed was co-chairman with his friend Chet Hemmingsen to spearhead a fund drive from 1972-74 that built a new wing on Oaklawn Hospital. He was awarded the Volunteer Leadership Award for Marshall during Michigan Week in 1978.
Ed became involved with Quarter Horses in 1958. He was a member and past Board of Directors Member of the Michigan Quarter Horse Association 1967-70. He also was a Director of the Michigan Association of Western Horse Clubs 1967-70. Ed and his family had numerous state awards and three National Champion horses.
Surviving are his wife Genevieve; their daughter Suzette Koster of Battle Creek, their son Brent (Wanda) Belcher of Marshall, and 5 grandchildren, Kevin (Angie) Belcher, Kristin (Greg) McPherson, Heather Schroeder, Kress (Gwen) Koster, and Kurt (Colette) Koster; and 9 great-grandchildren. He was preceded in death by his parents, his brother Howard Belcher and son-in-law Steve Koster.
Friends who wish may make memorial contributions to CCAIS for Floral Hall or United Methodist Church. Assistance with memorials is available at Kempf Funeral Home.
Condolences may be sent to:
Belcher McPherson Auction Company
1106 S. Kalamazoo Ave
Marshall, MI 49068