Edward G. King, CAI, CAGA
June 26, 1937 – July 6, 2010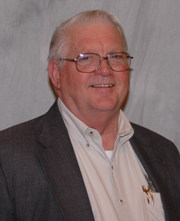 Edward G. King, age 73, of Clare, passed away on Tuesday, July 6, at his home.
He was born the son of Barney and Ida M. (Schulte) King on June 26, 1937, in San Antonio, Texas. He graduated from St. Agnes High School in Flint, graduated from Lansing Community College in 1985, attended Missouri Auction School, Auction Marketing Institute, and Dale Carnegie Toastmasters International. Ed was an Auctioneer by trade who had served as a board  member of the Michigan State Auctioneers Association in several capacities, was the Bid Calling Champion in 1999, and was inducted into the MAA Hall of Fame in 2008. He also served as the association's president. He was recognized at the  MAA conference in January for his outstanding and inspiring examples of leadership. Ed King received recognition for his long-standing commitment to the MAA and its members and his dedication to the auction profession. Mr. King was instrumental in the development of President Phillips' auction career through the inspiration and support he freely offered. Ed has also continued to support the association and has served multiple terms and positions on the board, not to mention exemplary participation at conference and shows. Ed was always an active sponsor of the Association and new members. He went out of his way to make sure everyone felt welcome and gave freely to his friendship and support to his friends, family and causes that meant so much to him. Ed was a big supporter of St. Jude Children's Research Hospital and more recently to Team Winter. Ed loved helping people and making people happy.
Ed had also been a member of Fowlerville Rotary, had served as a board member of Livingston County Catholic Social Services, and had been Grand Knight at St. Agnes K of C. More recently he was a member of St. Cecilia Catholic Church in Clare.
When Ed was inducted into the MAA's Hall of Fame, Willis Yoder asked for the family members of Ed King to please come to the stage to accept his honor with him. Dozens of Auctioneers and Auction families came to the stage to support Ed because we was always thought of as part of everyone's family. Survivors include his Children, Michael and Kelly King of Birmingham, Alabama, Brian King of Owosso, Mi., Jacqline Francisco of Eldon, Mo., his faithful companion Connie Epley, grandchildren, Christin Garcia, Nichole Francisca, Molly Brown, Ryan King, Anthony King, Dillon King, Annie and Kaylee Brown, great-grandchildren, Alex Garcia,  Korbyn and Ayden Brown, brothers, Kenneth (Pat) King of Flushing, James Koby of Oregon, Lonnie (Donna) Jolson of Live Oak, Fla., sisters, Martha Koby of  Williamston, Mi., Brenda (Jim) Wooldrige and Bonnie Goldsberg all of Florida.