Donald C. Diesing
Scottville, Michigan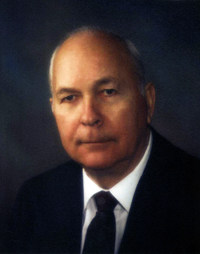 Don Diesing will forever be remembered in the towns where he worked, by the many individuals he served, and the church he faithfully supported. Don accomplished so much as a professional, yet he was always there to help out a family looking to buy a home. From judges and lawyers to the most ordinary individuals, all sought his help and advice and never questioned his high ethics and strong convictions; he easily earned the trust of everyone with whom he worked.
His German father, Otto, and his strict Norwegian mother, Julia (Stevenson), raised Don on the Diesing family farm where he was born on February 22, 1923. He worked long hours on the farm, learning to milk cows and raise crops at an early age.
Growing up Don had two older brothers, Art and Arnold, to teach him the ropes around the family's farm. However, from a young age, Don was also thinking about his education and getting an early start on learning at Newland School, a one room school house that was a one and a half mile walk away. A very bright student, Don bypassed three grade levels. He went on to graduate from Manistee High School in 1939, at 16 years of age.
After high school, Don was a very busy young man. He first decided to pursue auctioneering, enrolling in Reppert Auction School, and conducted his first auction sale in 1940 near Kaleva. As busy as he was, he didn't make much time for a social life. However, he did go on the occasional date with a former classmate named Wilma Widing, whom he had known since they were in the 8th grade. After finishing auction school, Don attended Michigan State College, where he completed a program in Agriculture in 1944.
Before he could put his education to use, Don was drafted into the United States Army. His shipment overseas was delayed because he was selected as a field instructor at Camp Blanding, Forida. He and Wilma kept in touch, though their relationship was still not serious. While stationed in Florida, Don developed a case of pneumonia and his mother let Wilma know he was sick. They talked on the phone and from that time on, there relationship grew to become real love. On July 23, 1945, Don and Wilma were married in Gainesville, Florida, just before he was shipped to Japan. There, even though a non-commissioned officer, he was made chief of the Public Safety Branch of the 85th Military Government Unit for the occupation forces.
Upon receiving his discharge, Don returned to Manistee, where he continued helping his family with the farm, while looking to develop his career. In 1947, he and Wilma welcomed their first son, David. Just one year after starting a family, Don moved his wife and child to Scottville and opened a real estate office. Over the next two years, he also completed the program in real estate at the University of Michigan Real Estate Institute.
To save money, they built their first home on the corner of Reinberg and Maple in Scottville, using lumber harvested from land Don bought. Never being too handy, Don learned he hard way that nails could not be pounded through hardwood. Dave, as a toddler helped rearrange the floorboards as fast as they could be laid out. Daryl joined the family in 1953.
Although his real estate and auction businesses were each more than full time jobs, he also started farming, first as a lobby and eventually becoming a several hundred acre operation with up to 150 cattle. each morning as he fed the cattle, he would plan out the rest of his day. Both Dave and Daryl, with a lot of help from Dick Hansen who has continued to work with Don since 1959, ran the farm and helped with the other businesses.
Over the years Don found many ways to give back to his professions, his community, and his church. For many years Don served his church as Council President, and as Treasurer, as was always willing to help out in any way that he could. He also served on the Scottville City Commission and as the Mayor of Scottville in 1962-63.
Over the years Don received many awards and accolades for his outstanding achievement in real estate, auctioneering, and community service. He was honored as a Paul Harris fellow by Rotary International as a member of the Scottville Rotary Club. He was also selected as Business of the year in 1986, and Business Emeritus in 2001, by the Scottville Chamber of Commerce. He was a founding member of the Mason-Oceana-Manistee Board or Realtors, where he served as the organization's president several times, and was awarded Realtor of the Year in 1959 and 1979. He was also a Realtor Emeritus of the National Association of Realtors and a Life Member and Past President (1980) of the Michigan State Auctioneers Association. in 1995 he was inducted to the Michigan State Auctioneers Association Hall of Fame.
Don's trademark was his willingness to meet with and help anyone any day, night or weekend. He was able to put hundreds of deals together over the years and was always meticulous about the details, especially the legal and financial aspects. While Don will always be known for having a definite opinion on how things should be done, he always treated everyone fairly and was trusted as an advisor, a mediator and a facilitator. He was often ready to help anyone who had experienced misfortune and was always ready to trust people who had not had an opportunity to prove themselves. For this, Don will be forever remembered in the hearts and minds of all who knew him.
Donald Diesing died on Sunday, April 8, 2007 at Memorial Medical Center in Ludington. He was preceded in death by his parents and his brothers Arthur and Arnold Diesing. Don will be greatly missed by his wife, Wilma, his sons David (Jane) Diesing of Chelsea, and Daryl (Marcia Rimai) Diesing of Shorewood, Wisconsin; his grandchildren Jeffrey (Rebecca), and Jennifer Diesing all of Chelsea, James (Mitzi) Diesing of Pinckney, and Rebecca Diesing of Shorewood, Wisconsin; his great-granddaughters Charlotte and Piper Diesing; his sister-in-law Gertrude Elaine Diesing of Manistee, a niece and several nephews.
Those who wish may make memorial contributions to Redeemer Lutheran Church. Words of Condolences may be sent to Mrs. Donald (Wilma) Diesing, PO Box 25, Scottville, Michigan 49454