David Helmer, MAA Hall of Fame 2014
David G. Helmer, CAI, GPPA, CES
2014 MAA Hall of Fame Inductee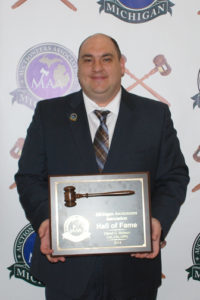 David was born into the auction profession through an auction company what was founded by his MAA Hall of Fame father, Jerry Helmer and his partner, Lloyd Braun in 1974. Although the business gave David an automatic place at the podium, he has never just sat back, hit cruise control and rode the wave due to his affiliation with an established auction company. The fact is, David used this platform to grab the steering wheel not only to continue the Braun & Helmer Auction Service legacy, but to take the company to an extraordinary level.
David has an amazing talent, passion and commitment toward the entire auction industry. He has attended every MAA sanctioned event for approximately two decades including: Conventions, Midwest Auctioneers Round Up, Special Meetings etc. He hosted the welcome picnic for the 2013 Midwest Auctioneers Roundup at his farm in Saline, providing an ample dinner for over 100 and inviting everyone to take barn tours, all while driving the tractor and hay wagon to transport everyone around.
David is the founder of the annual MAA All Star Auction. The event has raised over $30,000 for charity over the past five years and has given the MAA an immeasurable amount of media attention through local Michigan communities and numerous front page stories in industry trade publications. He served on the National Auctioneers Foundation Board of Trustees, is a past President of the Michigan Auctioneers Association, was a 2006 Auction X Press National All Star, is the 2008 Michigan Ringman Champion, the 2006 Michigan Auctioneer Champion, won First Place Champion of over 100 MAA Marketing Awards, and has earned his CAI, GPPA and CES designations through the National Auctioneers Association.
David has worked over 1,600 public auctions, worked with over 60 charitable organizations and is the exclusive auctioneer for the Detroit Tigers and Detroit Lions alumni. He is one of the founders of The Auctioneer Channel and the founder of the Super Auction. He is well respected among his peers and is a role model for many in and out of the auction arena. He is an upstanding member of his community with high morals and a faithful Christian. David and his wife, Jennifer, have three children, Olivia and twin boys, Luke & Caleb.