Darin Hower, Michigan Ringman Champion 2015
Michigan Ringman Championship
Darin Hower, Michigan Ringman Champion 2015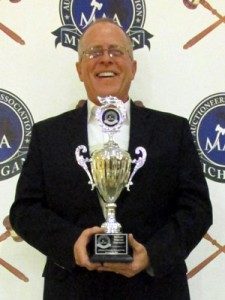 Auctioneer Darin Hower was awarded the honor of 2015 Michigan Ringman Champion on January 28, 2015 at the Michigan Auctioneers Association Annual Conference in Kalamazoo, Michigan. 7 Contestants competed for the coveted title. Contestants were judged by a panel of 5 judges including past Michigan Auctioneer Champions and International Auctioneer Champions. They were judged on 4 categories: Crowd/Buyer Interaction, Performance, Relaying Bids and Communication with their Auctioneer, and Appearance/Presence.
Darin Hower, his wife Carla, and two children, Andrea and Christian are longtime residents of the Lake City – Cadillac area. Darin, an auctioneer with Don Hower – Auctioneers, in Lake City, MI., conducts all types of auctions in a multi-county area in Northern Michigan. The auction company was established and has been operating successfully since 1967. Darin is a graduate of the Missouri Auction School. He is a proud member of the Michigan Auctioneers Association. Darin, recently served on the MAA Board of Directors from 2012 to 2015, as the Secretary / Treasurer. He also holds the CAGA designation from the Certified Appraisers Guild of America.
Darin is active in the Real Estate business, as well. He holds a Michigan Real Estate Salesperson License with Whitetail Realty, in Lake City. He is a member of the local Paul Bunyan Board of Realtors, Michigan Realtors and the National Association of Realtors. Darin says that he would encourage anyone, in the auction industry, to join and get involved with their State & National Associations. It really is an excellent opportunity to gain friendships, knowledge and professional insights into the auction business.