Dan Samson

    MAA BID CALLING CHAMPIONSHIP Dan Samson MAA 2007 Bid Calling Champion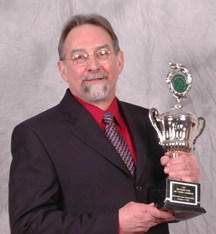 Dan Samson of Escanaba, MI won the coveted title, Michigan Bid Calling Champion, Thursday, February 1, 2007. The MAA Bid Calling Contest was held in conjunction with the MAA Annual Conference at the Radisson Hotel in downtown Lansing, Michigan.
Over 200 attended the three-day event. 25 Men and Women competed for the title, Michigan Bid Calling Champion 2007. Samson has placed among the top 5 finalists of the competition for the past nine years. Contestants are judged on their chant, or bid-calling, prefissionalism, surveying the crowd, gestures, product description, appearance and poise. The top 5 finalists answered unrehearsed interview questions while facing the audience.
Samson received the title, a championship trophy, a gold championship ring and his entry fee paid into the International Auctioneer Championships in July in San Diego, CA. The International Auctioneer Championships are held during the National Auctioneers Association Annual Conference and Show. Dan will also serve as industry spokesperson during his yearlong reign.
A 27 year veteran of auctioneering, Dan Samson is a member of the Michigan State Auctioneers Association, Wisconsin Auctioneers Association and the National Auctioneers Association. He holds a Bachelor of Science Degree, Industrial Education from Northern Michigan University and is a graduate of Bay de Noc Community College and the World Wide College of Auctioneering in Mason City, Iowa.