Dale Gabara
In Memory…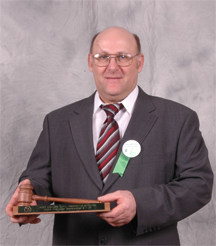 Dale Gabara, age 63, of Sandusky, passed away Tuesday, July 23, 2013 at McKenzie Hospital in Sandusky. Dale was born May 18, 1950 in Sandusky, Michigan to the late Elwood and Hazel (Wood) Gabara. He married Sheryl L. Marquardt on November 2, 1991 in Lexington, Michigan. Dale was a member of the Michigan State Auctioneer's and the N.R.A. Dale was the first MAA Ringman Champion in 2007.
Dale is survived by his wife, Sheryl Gabara. Two daughters: Teresa Winiarski, of Avoca and Jennifer Gabara, of Sandusky. Two grandchildren: Morgan and Brandon. One sister, Gayle (Ron) Donath, of Mayville. Several nieces, nephews, and other relatives.
He was preceded in death by his parents, Elwood and Hazel Gabara. One sister, Martha Willis.