Dale Gabara, CES
MAA RINGMAN CHAMPIONSHIP Dale Gabara, CES MAA 2007 Ringman Champion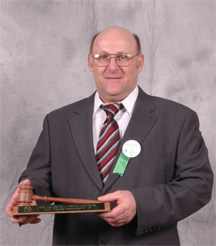 Dale Gabara of Sandusky, Michigan won the first ever MAA Ringman Competition on Thursday, February 1, 2007. The competition was held in cooperation with the MAA Bid Calling Championships at the Annual Conference of the Michigan State Auctioneers Association. Over 200 Auctioneers, families and staff attended the popular conference in Lansing, Michigan.
Dale didn't start out as an auctioneer or ringman. He was in the auto body repair business for 30 years. As part of that business, he started going to car auctions in Flint, Michigan and got interested in the business. He went to Missouri Auction School in 1991 and immediately started in the industry. With his contacts at the auto auctions, Dale was able to start out as a Ringman for other auctioneers. At his first car auction, Dale proved his worth off the bat and earned his right to wear the company promotional wear. This was a big accomplishment as it was an honor that had to be earned. Dale worked up from there and now works as auctioneer and ringman at 5 car auctions a week, both dealer and public auctions. Those include Manheim Auto Auction, Protech Auto Auction, Bay Auto Auction and Richmond Auto Auction.
Working in the auction industry also got Dale and his wife, Sheryl, interested in running their own auction company. They own and operate Gabara Auction Service together as auctioneer and clerk. They conduct 25-30 onsite antiques & collectibles auctions per year in addition to the auto auctions. In addition, Dale conducts countless benefit auctions every year. Now a full time auctioneer, Dale feels that his work in the industry has been enhanced by his involvement with the MAA. He feels that a ringman is an asset to an auctioneer as they work with buyers and help the auctioneer realize the best results for their sellers. Dale is proud to be the first winner of the MAA Ringman Competition!