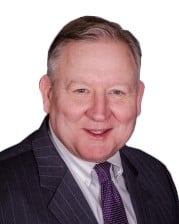 George Michak
Attorney at Law
Lemoyne, Pennsylvania
George Michak is an attorney who regularly represents auctioneers and auction companies on wide-ranging issues. George also helps auctioneers and auction companies identify, manage, and reduce risk while educating sellers and buyers and protecting commissions, premiums, and fees.
George serves as counsel to the Pennsylvania Auctioneers Association, and regularly speaks before industry groups about auction law and ethics. In his presentations, George addresses the changing (and challenging) legal environment faced by auctioneers, with a focus on major legal issues, developing case law, and the importance of appropriate contract language, including bidder terms and conditions. In addition to his auction law practice, George has a strong background in corporate and business law, commercial litigation, administrative law and professional licensing, economic development financing, oil and gas, real estate, and land use.
George graduated, magna cum laude, from Vermont Law School, and holds a Master's degree in Public Administration from Penn State University where he was awarded a University Fellowship. He received his Bachelor of Arts degree in Government from King's College. After law school, George served a judicial clerkship with the Honorable John A. Dooley III at the Vermont Supreme Court. George also served as Chief Counsel for the Pennsylvania Department of Community and Economic Development, which is the Commonwealth's principal economic development financing agency. Currently a solo practitioner, George was previously a partner in a major Pittsburgh-based law firm, and, was, earlier, associated with national law firms based in Washington, D.C. and Pittsburgh.
Seminar: Legal Issues, Best Practices, And Risk Management For Professional Auctioneers
George Michak is a wealth of information for all things Auction Law. He will touch on many aspects of auction law and how it applies to you and your business. COVID-19 has had a significant impact on life and business in the United States, and around the world. COVID-19 restrictions have affected the auction industry and may result in permanent changes in certain aspects of the industry. This discussion will include liability issues, as well as the ability to sell "AS IS" should pre-auction inspections be unavailable. Sample language will be provided.