Michigan Realtors®
Michigan Realtors® Convention
Convention & Expo
Amway Grand Plaza Hotel & DeVos Place
Grand Rapids
September 27-28, 2017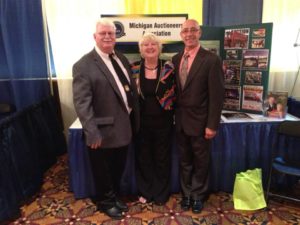 The Michigan Auctioneers Association and the Michigan Realtors work together to jointly benefit their members. This year, the MAA will again attend the the Michigan Association of Realtors Conference on September 27-28 in Grand Rapids, Michigan. Not does the MAA setup a booth to promote how Auctions can help Realtors in their business, but they provide educational opportunities by showing Realtors where to find resources important to their business.  The MAA also helps raise funds for the association by creating excitement and competition at the Michigan Realtors PAC Auction.
---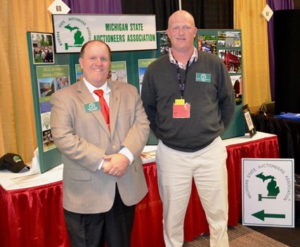 Also, below is some information from the seminar given in 2012 by MAA Vice President, Kenny Lindsay.
Want to work with an auctioneer?
Go to https://msaa.org/index.php/find-an-auctioneer/ to search for an auctioneer in your area.
Want more information about Auctions vs Estate Sales? Click HERE for a great article of information.
---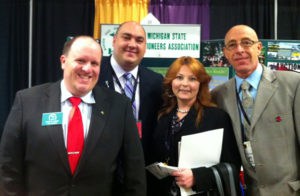 No matter what type of property you are selling, it's most likely that your client has personal property that they need to liquidate. This is true for Estates, Moving a Household, Commercial/Industrial, Farm as well as specialty collections that your client may be interested in liquidating in their moving process. Learn how to maximize the value to your clients by working with an auctioneer to help your client liquidate their personal property assets. You'll learn the valuable options available to you and how you can increase your bottom line by working with an auctioneer.
---
WHAT ABOUT THE REAL ESTATE CONTENTS?
"MAXIMIZING YOUR VALUE TO YOUR CLIENTS AND INCREASING YOUR BOTTOM LINE"
Presenter: Kenny Lindsay, CAI
Vice President of the Michigan State Auctioneers Association
INTRODUCTION & OVERVIEW
Expanding Your Horizons Beyond Real Estate- Changes You Should Make On Your Next Appointment
Help facilitate funds for closing.
Pay more attention to the personal property
What's in the garage and barn?
---
What's Missing From Your Public Relations Material?
One call does it all.
'What about the personal property?'
---
Who's in your back pocket? 3 People You Should Have With You At All Times?
_____________________
_____________________
_____________________
---
ESTATE SALE VERSUS AUCTION
Stats and Facts about Auctions and Estate Sales (BONUS! Read 'Estate Sale vs. Auction' article. Visit the Michigan State Auctioneers Association website)
AUCTIONS ARE THE SALE OF LAST RESORT!
SECOND THOUGHT! "Priceless" works of art are ONLY sold at auction! Why? The competitive bidding of an auction determines the market value and establishes the highest price a consumer is willing to pay. No More. No Less.
Other ways of selling, but generally at a discount: Online auctions, Garage Sales & Flea Markets, Estate Sales (Some exceptions apply), Craigs List (Hidden dangers!), Swap Meets, Booth at Community Fair or Event.
---
Estate Sale or Auction? How to determine the right scenario
Vastly household and Modern Furniture is great for an _____________________.
Motivation of the Seller
Local versus National.
How to get the buyer?
What type of marketing is required?
---
Getting Paid Even If The House Does Not Sell
What auctioneer should I use?
Partial Estates, Special Collections & How To Sell Individual Items
-Types of Auctions and the pros and cons of online only auctions
---
How to Qualify an estate specialist to work with
Overall Experience & Expertise in subject matter
Recognition within their industry
Willingness to work with a real estate professional
What does their website convey?
---
QUALIFY AN ESTATE – LEARN HOW TO QUICKLY ANALYZE THE CONTENTS OF ANY DWELLING & MAXIMIZE YOUR VALUE TO YOUR CLIENT
_____________________
_____________________
---
TOP 20 MOST DECEIVING NON VALUABLE ITEMS YOU WILL FIND
(Appear to be valuable but they are not)
_____________________
_____________________
_____________________
_____________________
_____________________
_____________________
_____________________
_____________________
_____________________
_____________________
_____________________
_____________________
_____________________
_____________________
_____________________
_____________________
_____________________
_____________________
_____________________
_____________________
---
TOP 20 COMMON BUT VALUABLE ESTATE FINDS
_____________________
_____________________
_____________________
_____________________
_____________________
_____________________
_____________________
_____________________
_____________________
_____________________
_____________________
_____________________
_____________________
_____________________
_____________________
_____________________
_____________________
_____________________
_____________________
_____________________
---
Every Real Estate Agent Should Know
Auctions are NOT "Estate Sales"
Absolute Auction: Items will sell regardless of final bid price.
The term 'AUCTION' means with reserve
NIB = New in Box
NOS= New Old Stock