---
Exhibitor Profile: MidCountry Media is a privately held, family-owned, media company with dynamic people providing exceptional service and products for all of our valued customers. Through mutual respect and honesty, we create a fun, fast-paced environment to inspire collaborative efforts within our organization and the customers we serve.
MidCountry Media, Inc. is a family-owned, privately-held publishing company that produces Farm World, AntiqueWeek, Auction Exchange and Collectors News and the AntiqueWeek Antique Guides. Wholly owned by Merry and Gary Thoe. The business offices and printing facilities are located in Knightstown, Indiana and employs about 80 people. Combined, the publications are circulated to more than 120,000 readers each week with a paid-subscriber base.
Farm World and AntiqueWeek were founded by Robert Thomas and Margaret Mayhill, owners of Mayhill Publications. Mayhill Publications was sold to dmg world media in 2000, who then added The Auction Exchange and Collectors News in 2004. The business was then sold again in September 2009 to Gary A. Thoe and Merry Mayhill Thoe and renamed MidCountry Media, Inc.
With its staff of editorial experts, AntiqueWeek presents timely and accurate news coverage of the antiques and auction industry. AntiqueWeek has been published every Monday, 51 weeks per year, since 1968. AntiqueWeek readers consist of industry experts, such as appraisers and auctioneers, to the common collector and home decorator. Recent readership surveys show 81 percent of AntiqueWeek readers rely on only one antiques newspaper – AntiqueWeek. More information on AntiqueWeek can be found at www.antiqueweek.com.
Since 1978, Auction Exchange and Collectors News has covered general auction and antiques and collectibles news, events, auctions and trends in the Michigan, Northern Indiana and Northwest Ohio region. More information on Auction Exchange and Collectors News can be found at www.eauctionexchange.com.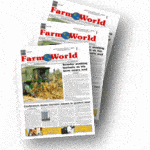 Celebrating 55 years, Farm World has been published 51 weeks a year, every Wednesday, since 1955. Farm World newspaper is the source for farmers and agribusinesses in Indiana, Ohio, Illinois, Michigan, Kentucky and Tennessee. Farm World's weekly features include: regional classified ads, regional farm news, calendar of events and auction listings. In-depth news articles cover a range of interests including: regional county fairs, FFA, 4-H, Young Farmers, agricultural politics, market prices, animal health and crop and livestock management. Special sections focus on women's features, recipes, auction and show reviews, farm safety, rural living, agricultural research and new farming technologies. More information on Farm World can be found at www.farmworldonline.com.