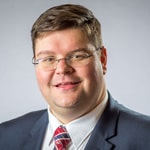 Peter D. Gehres, CAI, CES, CAS
International Auctioneer Champion
Hilliard, Ohio
Peter D. Gehres, CAI, CES, CAS is an auctioneer and Realtor specializing in Real Estate, Automobile and Benefit auctions. He is the 2015 International Auctioneer Champion and works with charities, non profits and other organizations to raise money through live auction events and special appeals. Gehres is a Columbus, Ohio representative for RES Auction Services, one of Ohio's leading Real Estate & Equipment auction companies. He regularly works as an auctioneer for Barrett-Jackson Classic Car Auctions, Brandly & Associates, Brinkman Auctions, Akron Auto Auction and Manheim/Cox Automotive.
Gehres is the Past President of the Ohio Auctioneers Association and is a Director of the National Auctioneers Association. He has been an instructor at the Certified Auctioneers Institute, Reppert School of Auctioneering. The Ohio Auction School and has presented at many state auctioneer associations and the National Auctioneers Association Conference & Show. Gehres has appeared on both radio and TV promoting auctions and the auction method of marketing.
Gehres is a graduate of The Ohio State University with a Bachelor's of Science Degree in Agriculture with studies in Agricultural Engineering and Economics. Gehres is also a graduate of The Ohio Auction School and Hondros College (Real Estate).
Seminar: The Last Cowboys: Is this the final drive for the American Bid Caller?