Leroy Van Dyke
Country Music Legend
NAA Hall of Fame
Smithton, Missouri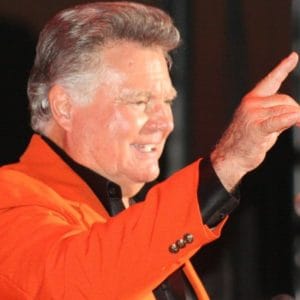 Billed as the World's Most Famous Auctioneer, Leroy Van Dyke catapulted into country music fame in 1956 with his song, 'The Auctioneer', which sold over 2.5 million records and has been the auctioneers' anthem ever since. He wrote the song while stationed in Korea during the Korean War, and first performed it to troops on the same bill as Marilyn Monroe.
In his 50+ year career, Van Dyke has recorded more than 500 songs, dozens of them making the charts, most notably his 1961 song, 'Walk On By' which was named by Billboard magazine in 1994 as the biggest country single of all time.
Van Dyke is the author of "Auctioneering, Motivation, Success" and has sold thousands of auctions during his lengthy career.
Music industry experts named Leroy Van Dyke as the Country Music Entertainer of the Decade for the 1960s. He had the starring role in the 1967 movie, 'What Am I Bid?'
Van Dyke is considered by industry moguls and by his peers to be the entertainer who put professionalism in country music. An inductee into the North American Country Music Hall of Fame, the Missouri Country Music Hall of Fame, Entertainment Buyers Association's Hall of Fame, and the National Auctioneers Association Hall of Fame.
The Michigan Auctioneers Association is honored to have Leroy Van Dyke as our guest at the annual convention. Embrace this rare opportunity to meet and learn from one of the most beloved personalities in both the auction and country music industry.
Fireside Chat with Leroy VanDyke
Taking a break from the traditional, join us for this once in a lifetime opportunity to participate in an interview of one of the most recognizable names in Country Music and the Auction Industry. Come hear about some of the experiences and stories in an intimate setting where Leroy will be sitting down with MAA Hall of Famer, David Helmer for an in depth interview about his life and career.