Annual Conference 2023 – Sam Grasso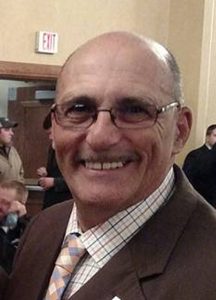 Sam "The Hitman" Grasso, GA
Professional Ringman
Baltimore, Maryland
Sam "The Hitman" Grasso is an award winning professional Ringman who has worked as many as 7 car auctions a week and also heavy equipment sales for major auction companies throughout the United States and Canada. Sam is a graduate from Mendenhall School of Auctioneering and is one of a handful of people in the auction industry who has made his livelihood strictly working the auction ring for the past 25 years. He is widely known in the auction industry for both his Ringman skills. For the past 14 years Sam has been the Lead Ringman for the prestigious IAC Finals. He has been called on to served as a Judge at state conferences and The World Automobile Championship.
He is a member of the National Auctioneers Association and both the Maryland and Virginia Auctioneers Associations. Sam was named "The Italian American Man of the Year" this past September by the Italian American Organizations of the U.S. for his contributions to the traditions, cultures, and service to the Italian communities not only in Maryland but throughout the country. He is a active member of St Leo The Great Roman Catholic Church in Baltimore's "Little Italy" where he was born and raised. Sam is a lifelong resident of Baltimore, Maryland and a veteran of The US Navy where he served on the USS Enterprise for 3yrs 9 months!
The Art and Science of Working the Auction Ring
Ever wanted to work the ring? Showing up early to an auction and protecting your physical health are two key components to successfully doing so. Sam Grasso brings his ringman education to the MAA Conference! If you're a bidspotter in any asset class, hone your skills and learn how to better communicate with auctioneers and buyers on a fast-paced, crowded auction floor!